Soft-top gazebos, or canvas gazebos, are fantastic additions to any backyard. While we enjoy using them during spring and summer seasons, they are not meant to withstand winter and should be kept before periods of strong rain, snow and wind.
Like all products, our soft-top gazebos can last you a long time, provided it is well taken care of, so we came up with a simple guide to help with rust prevention, canopy care and anchoring. These handy tips will also help with caring for other soft-top structures, such as pergolas.
Rust Prevention
The metal components of Sunjoy's gazebos are coated with rust-inhibiting paint that protects them from rusting. However, due to the nature of metal, surface oxidation (rusting) will occur once these protective coatings are scratched or stripped. 
To minimize such occurrences, we recommend assembling and handling the gazebo with care. If rust develops, clean that area by sanding it slightly, then wipe it thoroughly before applying a new layer of rust-inhibiting paint. 
Canopy Care
Sunjoy's soft-top gazebos are great for providing shade from the sun. However, the canopies are water-resistant, not waterproof, and should be removed during inclement weather conditions, or when the gazebo is not in use. This will not only prolong your gazebo's lifespan, it will also save you the cost of buying replacement parts, or another unit.
The gazebo's canopies are your first line of defence from the sun and rain. Long term exposure to heat and cold makes them prone to decolorization. To prevent this, spray them with UV fabric protection sprays such as Ray Bloc and Scotchgard.
If you'd like to wash the fabric, do not use a washing machine, and refrain from squeezing it. Instead, clean the canopy gently with soap water and a sponge, and let it air dry. 

Anchoring The Gazebo
Stakes are provided with each gazebo to help you anchor it to soft and level ground. If you would like to secure them onto solid foundations such as concrete or wood, we recommend using appropriate anchors. Tapcon screws work well for concrete, while wood screws or wood lag screws are generally better for wood surfaces. These can be found in your local hardware or home store.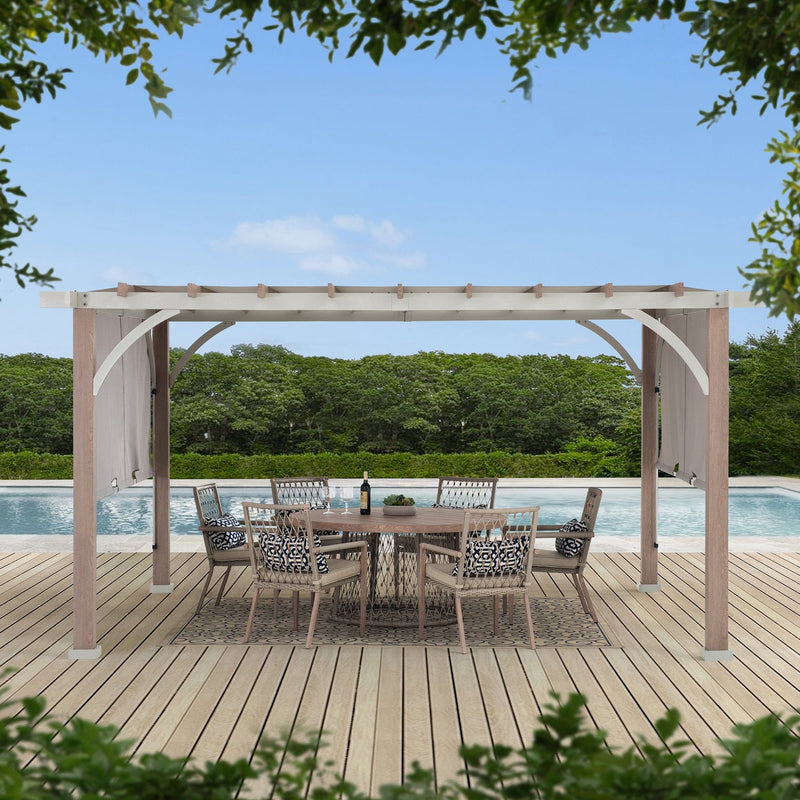 Conclusion
Taking proper care of your gazebo will not only enhance its beauty, you will also end up with a longer-lasting product that will help stretch your dollar. For sturdier gazebos that you can leave out all-year-round, check out our beautiful
hard-top gazebos
.
For tips on maintaining hard-top gazebos, click
here
.